Dental Implants Restorations in Stamford, CT
Are you missing a few teeth and suffering from bad bites? Visit the Stamford Smile Arts in Stamford, CA for the best dental implant restorations and enjoy healthy teeth that are natural looking!
Dental implants have changed the lives of many a people and are safe and long lasting solutions with a look similar to that of natural teeth. They are the most modern of procedures available in restorative dentistry today and our experts are more than equipped to handle such cases.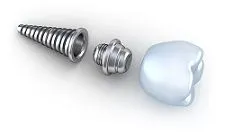 What Is A Dental Implant?
An implant is just a titanium screw that acts like the roots of your teeth and is screwed into your jaw bone (pretty much similar to the natural roots of a tooth). Dental implant restorations for missing teeth provide a number of benefits such as a natural tooth like feeling while chewing and biting, stronger teeth and of course an improved self esteem quotient.
How Long Do Dental Implants Usually Last?
They can last very long when properly taken care and our dental care experts will walk you through everything you need to know from information about the procedure, why you should opt for it and the care routine to be followed post the procedure.
Interested in Dental Implant Restorations? Call Stamford Smile Arts in Stamford, CA at (203) 348-4145 to schedule an evaluation with one of our expert dentists!